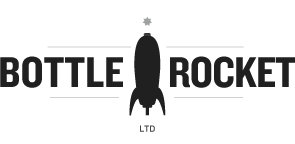 Bottlerocket ltd is a digital design studio whose aim is to make meaningful, worthwhile and safe digital experiences for children and their parents. It is run by Tim Allan, a designer and developer, along with an ad-hoc collection of artists, illustrators and programmers. We make games, toys and tools primarily for Apple iPhone and iPad.
Like our audience, we are all parents, or soon to be and we have a keen interest in making part of our children's digital lives as interesting and fulfilling as possible.
We witness each time our kids pick up our phone or tablet and start playing with it. We're delighted they do this and we love seeing the crazy excitement they get experiencing new things. We also think that we could make sure that the time they spend doing this, is actually as valuable and enjoyable as possible.
We also think that as a collaborative tool, tablets and mobile devices allow for shared experiences far greater than what could be done previously on desktop device using a mouse. And rather than wanting to use these devices as a babysitting tool, we want to make them a vehicle where you can have great fun with your kids.
We liken ourselves to dads in days gone by, tinkering in the shed making toys for their kids to play with. We're continually hitting our thumb with a hammer. But when the swearing dies down, we put it to our audience to see how they like it.
They usually don't, so we go back, change, improve and put it back out there to be played with, broken, bent or left alone and ignored. A lot of ideas end in the bin but that's OK. This iterative process, and close relationship with our audience, helps us get better ideas faster to the market.
It also means that as they get older their involvement is changing. We're seeing them become more active co-creators, submitting drawings and sketches and help making ideas come to life.
The motives remain the same: we want to make great stuff through a deep understanding of what our kids respond to. They're our 'always on' test audience. A vital cog in the wheel. We wouldn't do this if, nor would we have understood why we should do this, if weren't parents.